BMW R1200GS Adventure Long Way Down Replicas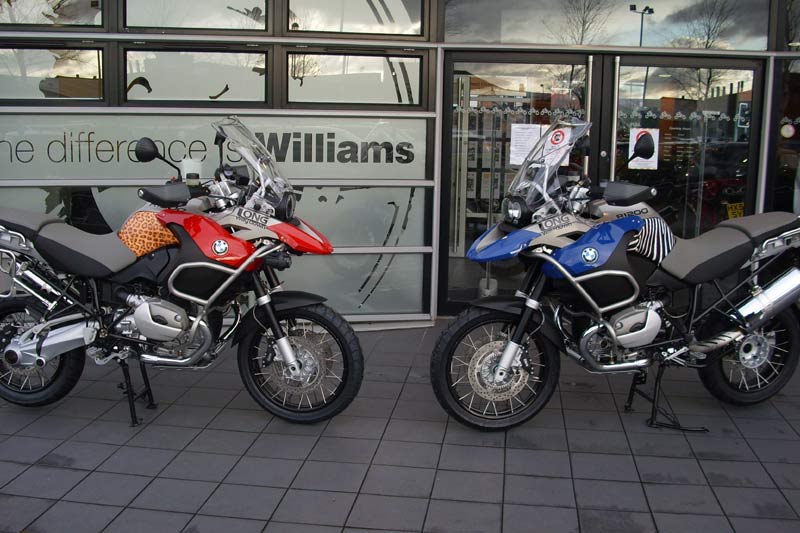 Two replica BMW 1200GS Adventure motorcycles, one of Ewan McGregor and the other of Charley Boorman are waiting for their future customers in Manchester. By the number of fans that the Long Way Down TV series has, the bikes won't gather dust for sure, but it is well worth mentioning these as THE internet find of the day.
The replicas stand out thanks to the same leopard and zebra patterns while traction control, ABS brakes and a tire pressure control system are standard and ready for those who feel like going on the Brit's tire marks from John O'Groats to Cape Town.
The blue one is Ewan McGregor's replica and features one-off features such as a dynamic comfort pack, heated grips and an onboard computer, just to mention a few. It will sell for the equivalent of $14,814, which is quite a bargain considering the story to which it relates.
The Charley Boorman replica features extra pannier fastenings, fog lights and an electronic suspension adjuster and it will sell for the equivalent of $16,000.
Quite frankly, I believe that these bikes should belong to a single owner or at least those who buy them separately to be good friends, just like the authors of the historic journey are. This way, the story will go on and the bikes won't drift away one from the other.
Source TopSpeed.com